Assessment Workflow Manager
Applicable Product:
Peoplefluent Learning
Applicable Release:
All Version
Summary
Steps in creating assessment workflow using the Assessment Workflow Manager. Also shows the steps on how to assign the workflow template in a course.
Detailed Information:
1. You can access Assessment Workflow Manager on:
Manage Center > Learning > Catalog general settings > Assessment workflow manager
By clicking the + Add exam/evaluation button, you can see a screen like below.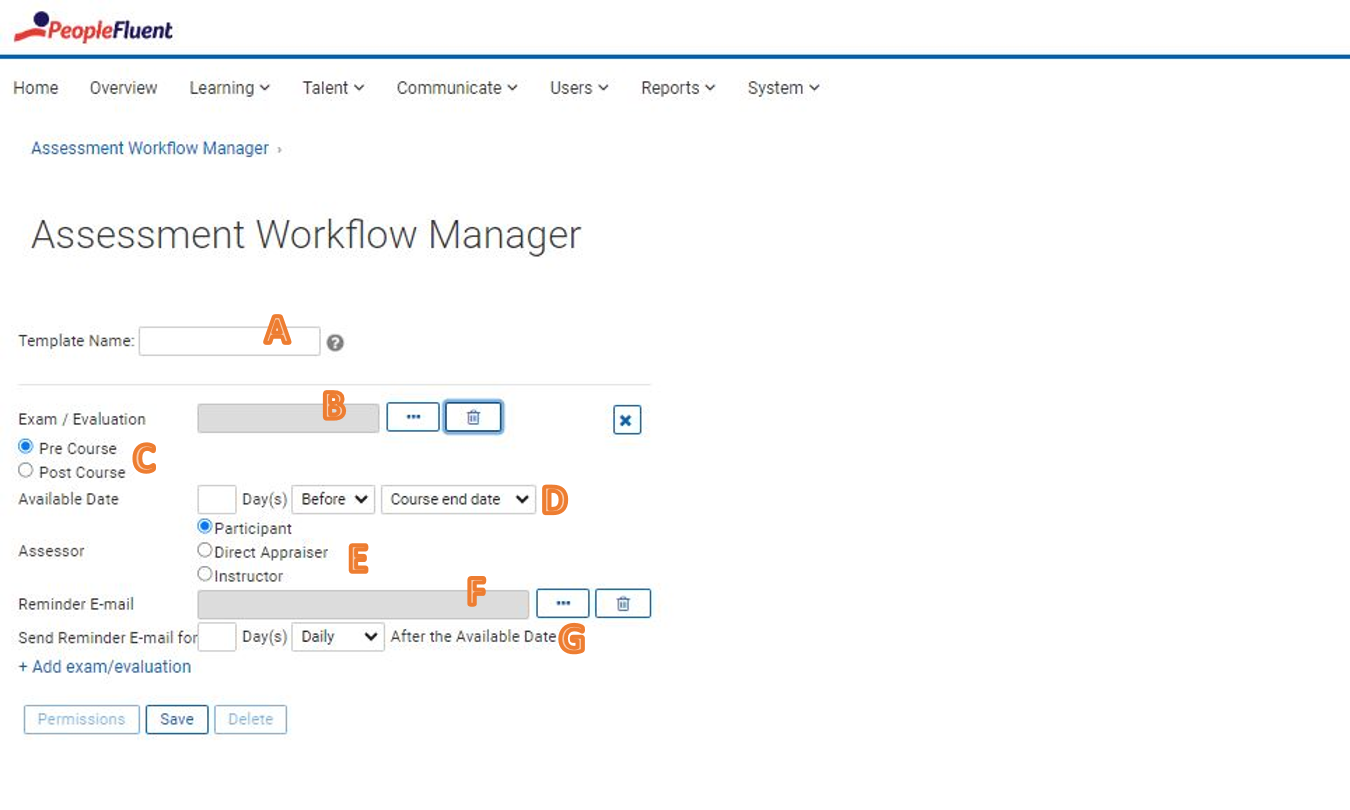 A- Template Name is the name you want for the workflow template
B- Exam/Evaluation is where you choose an existing exam or evaluation that you want to associate in this workflow
C- Determine if the assessment is before (pre) or after (post) the course
D- Available date is the first day that the assessment will be available in the course. This is also the first day that a reminder email will be sent. This is set based on the number of days before/after the start/end date of the course
E-Set whether the recipient of the reminder email is the participant or the evaluator or the instructor
F-Select the email template that you want to use for the reminder email
G-Set how often will the reminder email be sent*. (daily/weekly/monthly) You can also set when to stop sending the reminder email (expiration**). Reminder email will continue sending depending on the expiration date.
*Reminder: If left blank, the reminder email will not be sent.
**Note: Reminder e-mail will be sent until the exam is completed or it is past the expiry date whichever comes first
2. After creating your Assessment workflow template, you can now assign it to a course via the session properties.
Catalog Editor > Session Properties > 1. Edit Session > Workflow Assignment.