Bulk Move to Completed State
Applicable Product:
Talent Management: Performance
Applicable Release:
Summary:
This enhancement gives administrators the ability to quickly move all participants in the No Longer Eligible category straight to the Completed workflow state without the need to manually select them.
Detailed Information:
In PeopleFluent Performance, administrators are able to move participants that are no longer eligible for the workflow process into the completed state. This has been done on the Workflow Process Management page in the Process Management table by clicking the Manage icon in the Participants No Longer Eligible row and then selecting Manage Participants. This would open a dialog box where the administrator would select the participants and then click the Move to Completed State button. 
In this update we have made it easier to move all participants that are no longer eligible to the completed state. Now, when clicking the Manage icon, there is an option to select Move to Completed State directly.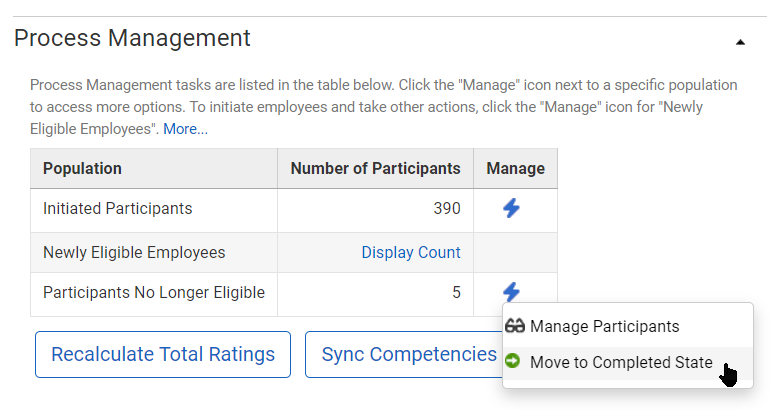 Figure: The New Move to Completed State Option
This automatically selects all participants in the Participants No Longer Eligibile row and continues the procedure without the need to select participants individually. 
Note: If needed, the previous method can still be used to select specific participants. 
Keywords: Bulk Move, Performance, 23.04 Enhancement


Created: Derrick Kwong
Reviewed: