An area of the Compensation Worksheet appears completely blank
Applicable Products
Compensation
Applicable Releases
All
Summary
An area of the Compensation Worksheet appears completely blank.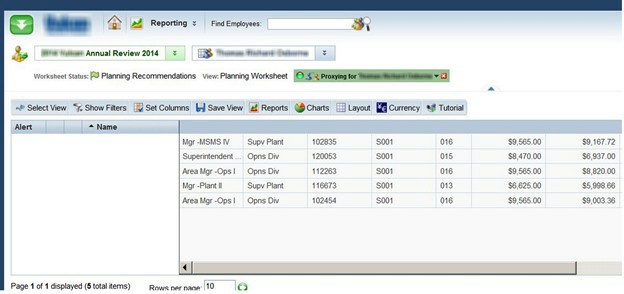 Detailed Information
This is a browser related condition that only happens in Internet Explorer.
The reason why the user cannot see that portion of the Worksheet is because Internet Explorer is using "Compatibility View" mode.
You may not be experiencing this problem yourself (even while you proxy as the person reporting this behavior), because your Internet Explorer is not using "Compatibility View" mode or you may be using a different browser.

The Internet Explorer's "Compatibility View" mode is an option in versions of IE8 and beyond, and with Talent Management (TM)
11.x or higher, the "Compatibility View" mode should always be set to [OFF] as this feature of IE is not (and it won't) be supported in TM.

To address this condition, please have the user remove the "Compatibility View" mode in Internet Explorer: From IE's Menu bar, in the "Tools" group, uncheck "Compatibility View" mode: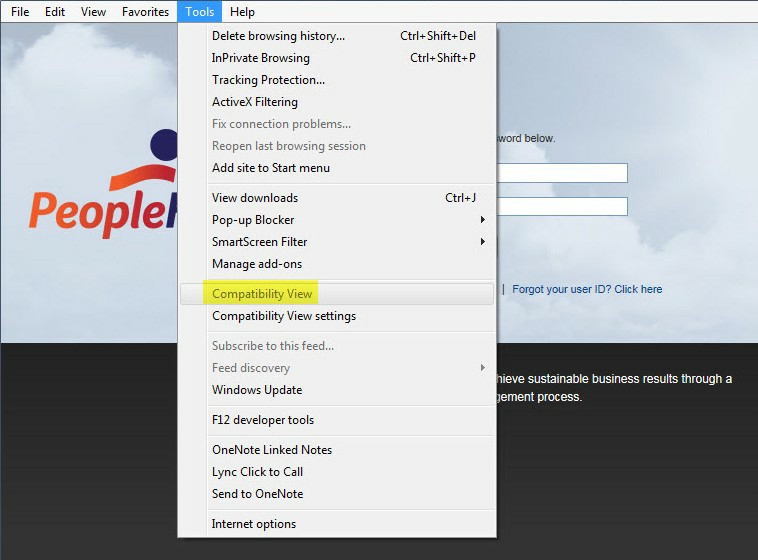 For more information about compatible browsers, please reference the "Software System Requirements" section of the "Peoplefluent Compensation Release Notes" available in the Documentation section of Customer Community.

If you are using IE11, make sure that it is NOT running on "Enterprise Mode". TM does not support IE11 in Enterprise mode.