Users guide to the delegation process
Summary
Users guide to the delegation process

Applicable Products
TM Performance

Applicable Releases
All

Detailed Information
This solution describes for end users how to delegate a process role within a performance workflow cycle. It assumes that the application administrator has configured the performance plan accordingly to allow delegation of process roles.
For the purposes of this solution, we will use a 'Manager' role delegation, as this is the most common usage. The application does allow for the delegation of other roles, such as 2nd Level Manager and HR Manager.
Important Note: When a process role is delegated, the delegation is invoked for all workflow states owned by the delegated process role. In other words, when a manager delegates their role in the process, that delegation is active until deleted or designated 'end date' is reached. The only exception would be when a delegation has a specified 'End Date' and it has expired.
Steps to Delegate a process role task:
This solution describes the two most common ways for a user to delegate their process role:
1. When the process moves to a state that can be delegated by the state owner, the assigned task will show a 'Delegate Task' icon.

2. The user also has the option of clicking on the task text; opening the form and delegating the process

Each method will navigate the user to an 'Edit Delegations' pop-up.
The 'Edit Delegations' pop-up is where the user will specify to whom the role is being delegated.
Optionally, the user can also change the 'Default' Task, Notifications, and Reminder values. The 'Default' is what the administrator selected in the plan configuration.

The user can view the plan values by hovering on the 'Eyeglass' icon next to the plan name.

To modify the Task, Notification, or Reminder values, merely click on the 'down arrow' for the desired value in the 'Delegated Employees' section.
Adding the Delegatee is done by clicking on the 'Add' button in the 'Delegatees' section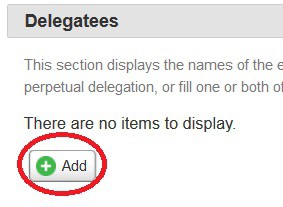 You will be navigated to the 'Select Delegatees for this delegation' pop-up. Here, you will select the delegatee from the grid view. Adding the delegatee is as easy as 1,2,3.


Optionally, you can specify a 'Start' and/or 'End' date for the delegation. If an 'End Date' is entered, the delegatee will only have access to the employee evaluation form for the start/end date duration. Once past the date, the delegatee task will be removed and they will no longer have access to the employee evaluation form.

Once the delegation has been successfully completed, the 'Delegatee' should now have a task on their dashboard to perform the task for the role workflow state(s). The icon will indicate that the task has been delegated.