How to change the section order of a Box
Applicable Product: OrgPublisher

Applicable Release: V21

Summary:

You want the Person (name) section, then the Job Section and the Box Section in that order to display in the Box.

To understand how it works, you have to go back to the 'Fields' and how they are defined. Your fields are assigned to a section, in this example I used 'Department' and it is assigned to the 'Person' section:

Go to 'Format and Visibility' you will see 'Department' in the 'Person Section' if you expand that section.
It will be in either the 'Current Box Items' which are the fields that have already been assigned.
OR in the 'Available Box Items', which are fields that have been setup but not assign to a section of the Box as of yet.

Next, this is per view. There are 5 sections to a box:

Remove all of the fields from the Upper Box/Upper Job Section, then added them to the Lower Job/Lower Box Section. As you can see the 'Person' section is now at the top, then the Lower Job section and lastly the Lower Box section.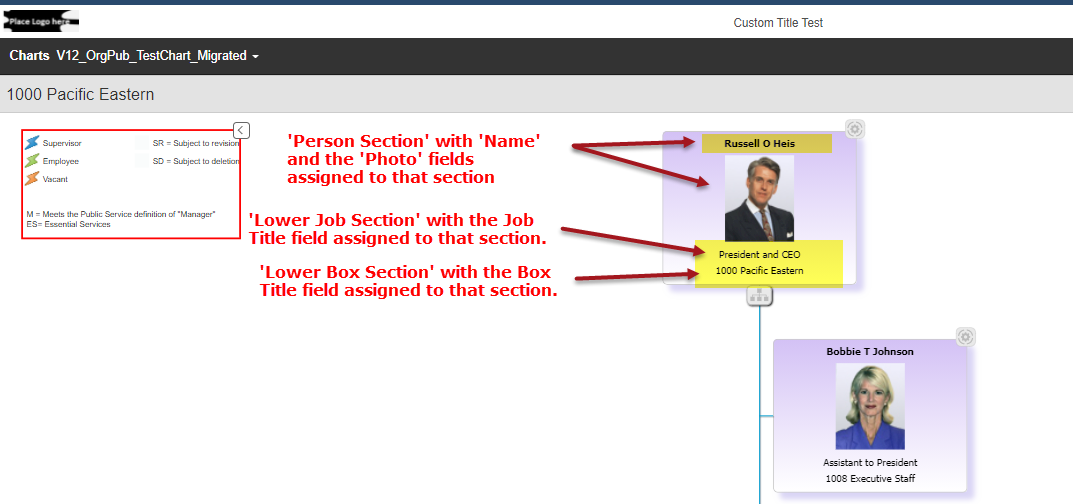 Created : Melanie Culp
Reviewed: Alvin Ee 14 Dec. 2021