Video: How to Schedule a Report
You can schedule a report by navigating to Manage Center > Reports to generate a report.

You can either generate a report using the Report Wizard to create your own custom report or select one of the default system reports from the categories Learning, Organization, Exam/Questions, Compliance and Certification Reports.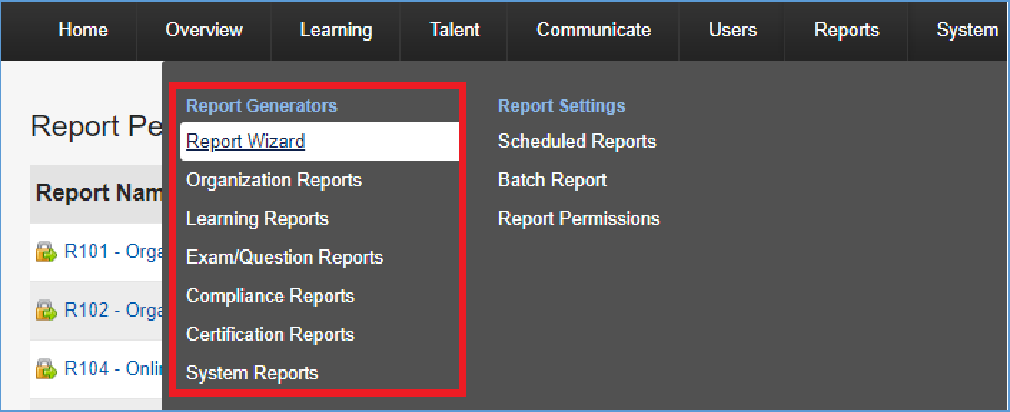 In order for users to schedule reports they will be required to have Report Scheduler set to Unrestricted against their roles (Manage Center > Users > System Roles > Access Control).

Users will also be required to have Read Only or Unrestricted Access permissions against the default system reports in order to have access to them. This can be set In Manage Center > Reports > Report Permissions.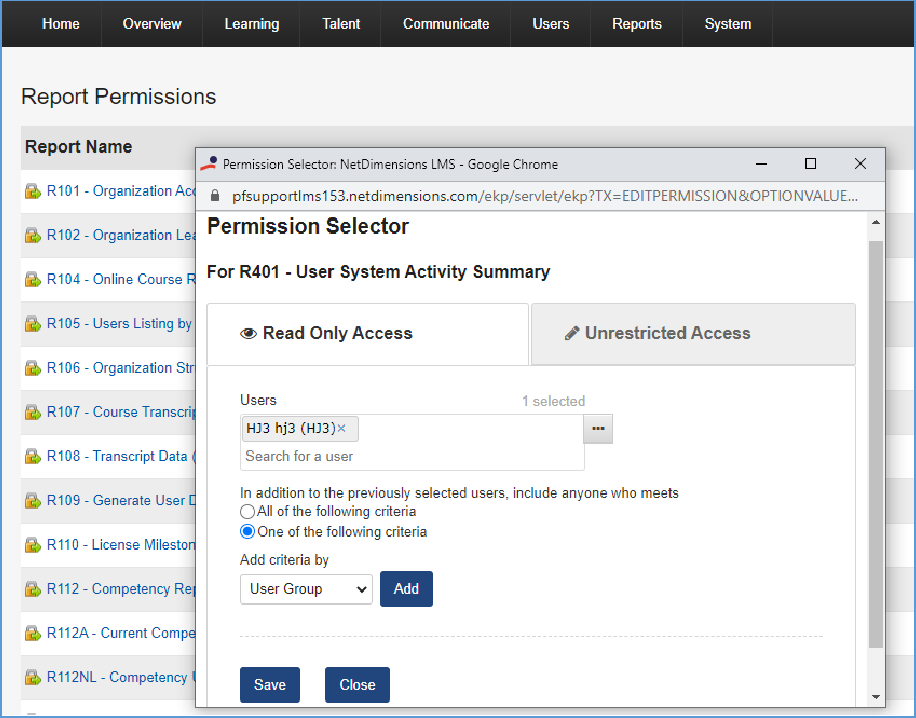 Once the user has selected the report that they wish to schedule with their desired output format and have specified the required parameters they can use the Schedule function.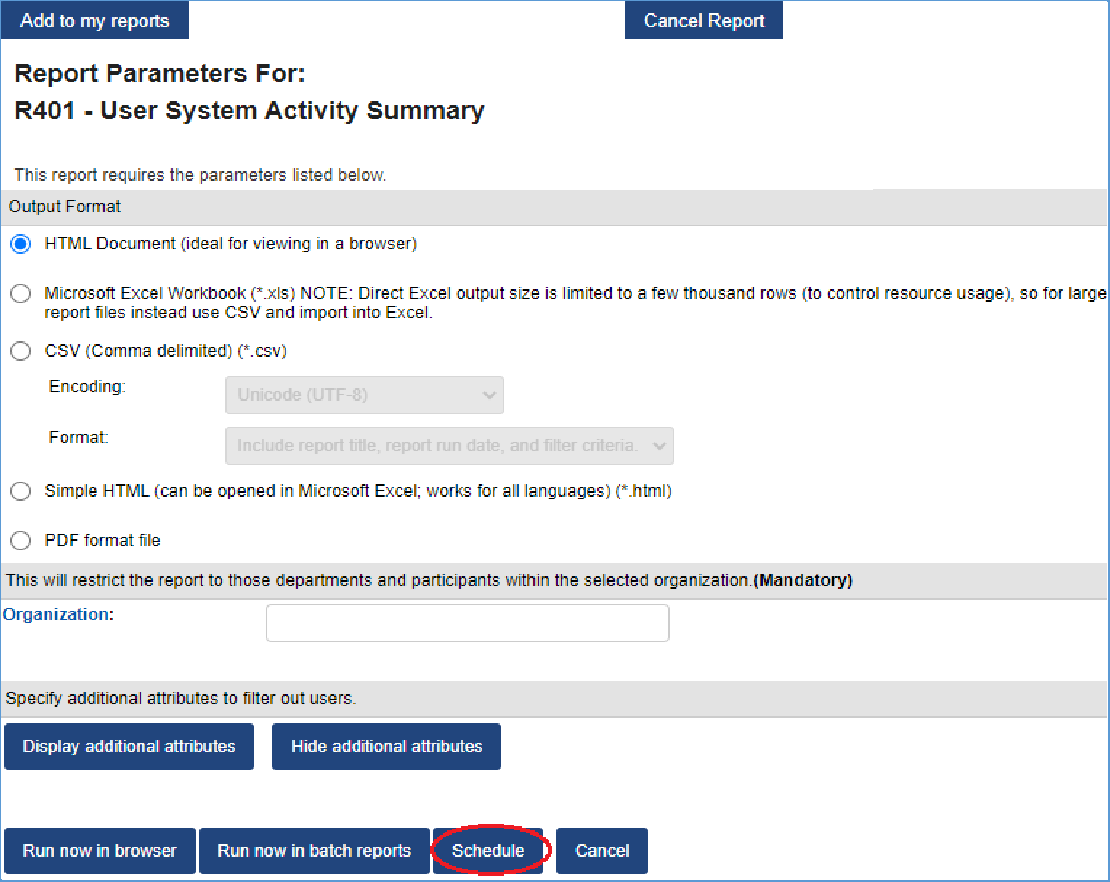 Scheduler Report Properties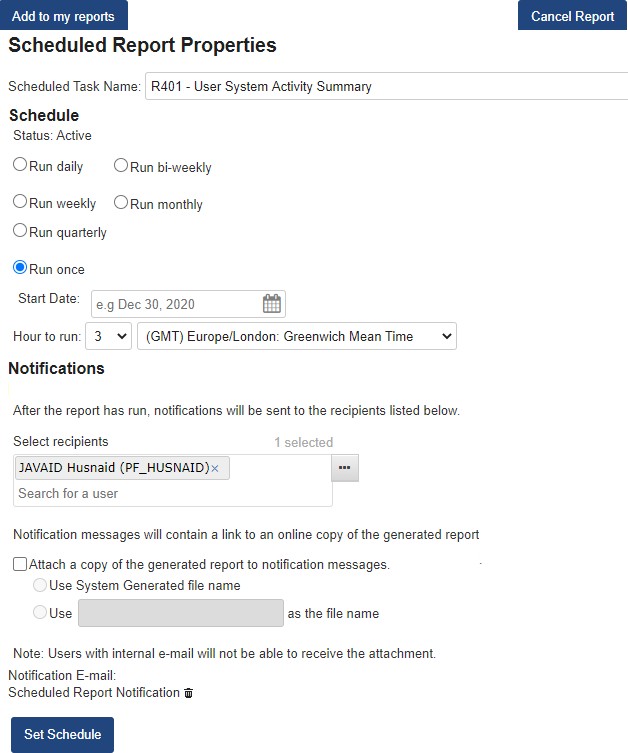 Schedule Task Name – Here you can name the scheduled report
Schedule – Here you can define the frequency you would like to schedule for the report
Run Daily
Run-bi-weekly
Run weekly
Run monthly
Start Date – The date you would like the scheduled report to start from
Hour to run – The hour in the day when the report will be scheduled to run
Notifications – The recipients that will receive notification when the scheduled report is run which contains an online copy of the generated report

Attach a copy of the generated report to notification messages – Recipients will receive a copy of the generated report within the notification messages (Users with internal e-mail will not be able to receive the attachment.)
Use System Generated file name – This option will keep the system generated report name
Use as the file name – This option allows you to name the generated report
Notification E-mail – The email template which will be used for the notification messages

Once the user has entered the properties of the scheduled report they can set it to be scheduled.
Users can access their scheduled reports in Manage Center > Reports > Scheduled Reports where they can edit the properties again if needed, check the status, next run time and the frequency type.

The Scheduled Reports hourly task that runs the scheduled reports can be found in Manage Center > System > Scheduled Tasks.

Once the scheduled report has been run the notifications will be sent out to the recipient(s).

Internal LMS mailbox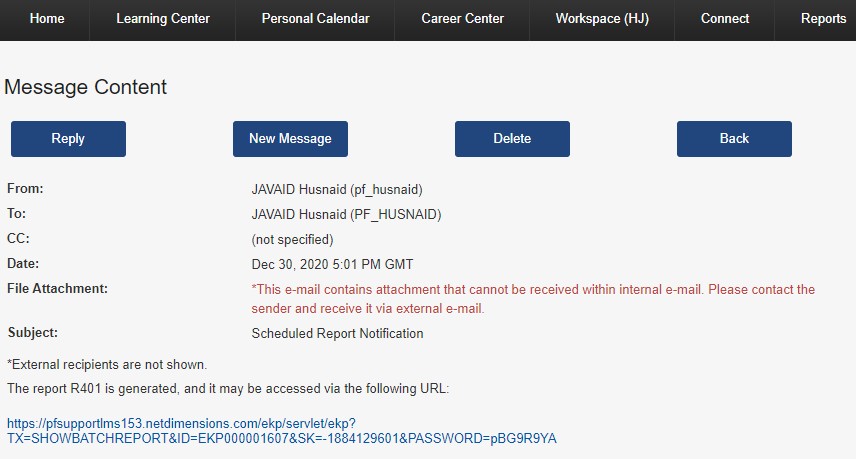 External e-mail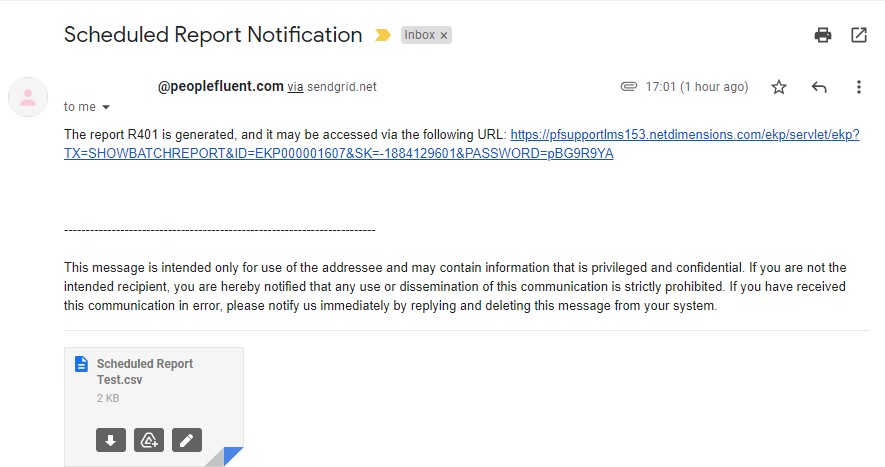 In version 15.0 a security patch to prevent unauthorized access to customer data was introduced, this means that only users that are logged in to the LMS will be able to access the generated report link that Is contained in the email.
Users trying to access the report link will be prompted with the message "Forbidden".

Scheduled reports that have an attached copy of the report can still be opened by users without having to log in to the LMS.