What happens if a competency is amended after it's been acquired?
The setting Revoke competency when mandatory training material is added to competency or when new revisions of mandatory training requiring the effective revision is published determines whether the learner will have their acquired competency revoked.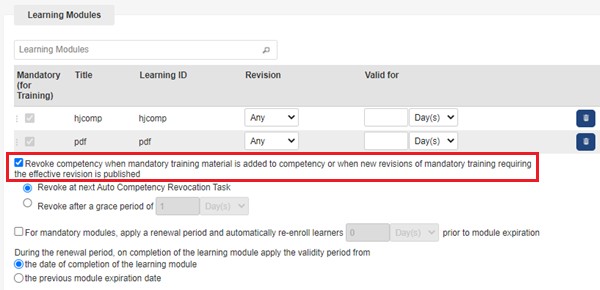 The revocation is dependent on if the learner no longer meets the completion requirements under one of the following circumstances:
New mandatory module has been added to the Competency
The publication of a new revision of a mandatory module
The Mandatory (for Training) setting is checked for an existing module


There is two options that can be selected under the revocation setting:
Revoke at next Auto Competency Revocation Task – This option looks at revoking competencies against learners that don't meet the completion requirements the next time the daily task Person Information Processor is run.

You can find more information regarding the daily task Person Information Processor here.


Revoke after a grace period of – This option allows you to grant the learners a chance to complete the required learning before losing the competency by specifying a grace period. If the learner hasn't completed the required learning within the grace period the competency will be revoked.